Content and Community Microsite Helps Dorothea's in Historic Folsom Improve Marketing & Community Support
in
Marketing Fundamentals
,
Folsom
---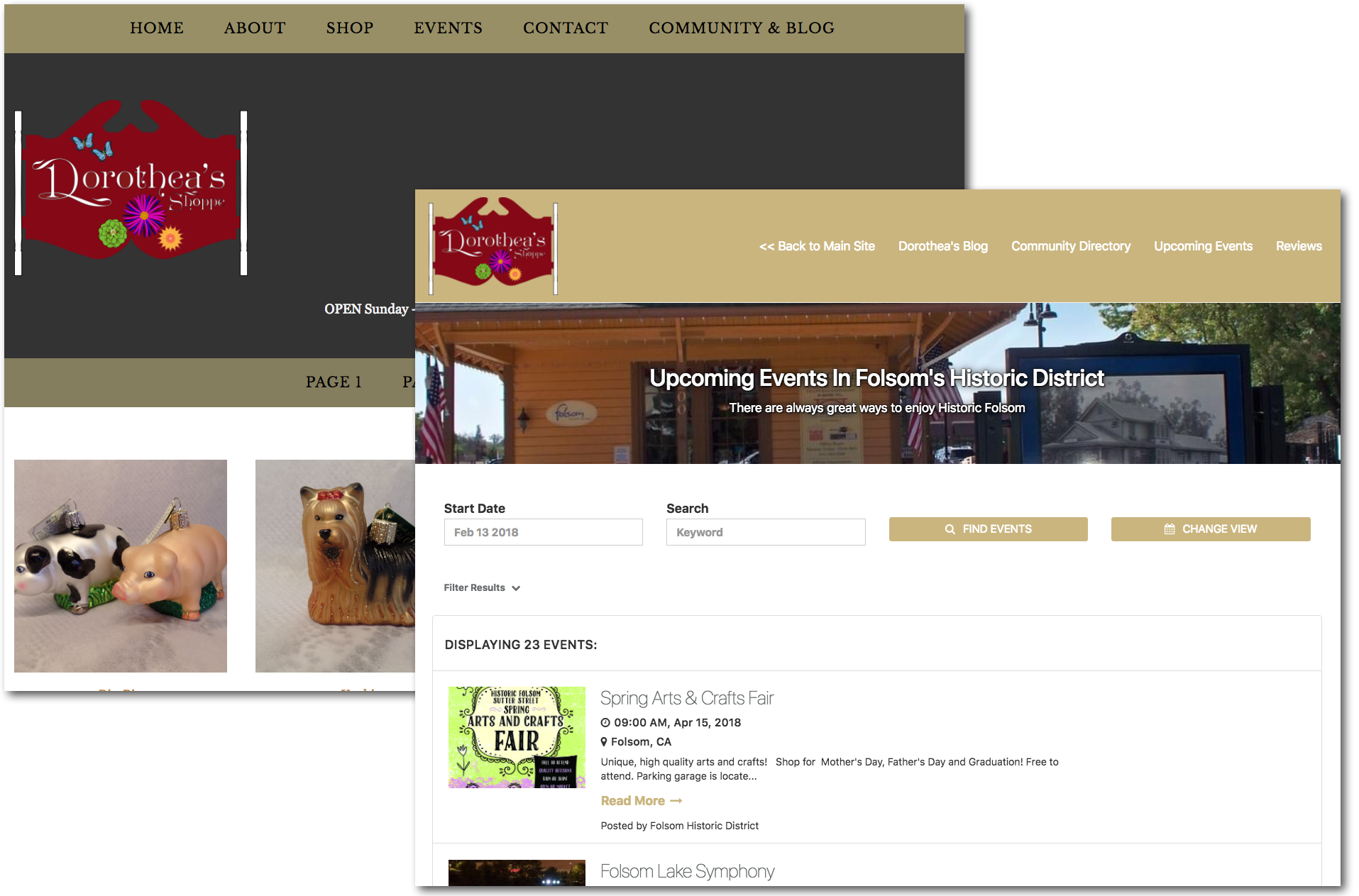 In the Folsom's Historic District, Dorothea's Shoppe has been a staple since 1965 widely known as "the Christmas all year round" store.
Four years ago Jim and Sherri Metzker bought Dorothea's and have been very involved in the community serving on the board of the Historic District, Folsom's Historical Society and, generally, proactive supporters of the community.
A few months ago we spoke about some of their goals for their business and their support of the community and it quickly became clear that they would benefit from a Content & Community Microsite.
What is a Content & Community Microsite?
A Content & Community Microsite fills a gap that a local business's current website doesn't effectively address. In many cases, a business may have an attractive site or one that provide some critical functionality like ecommerce yet lacks marketing-related capabilities.
The most notable limitations are the lack of an effective content engine (for blogging and related content) and the desire to support their community and local interests. 
How Does a Microsite Work With an Existing Site?
Rather than replace an existing site, a microsite can be added as a subdomain. In the case of Dorothea's, their primary site lives at www.dorotheas.com while the microsite lives at community.dorotheas.com.
Microsites are not a new concept, in fact many companies that choose to add an ecommerce store will add that at shop.yourdomain.com for example. 
The key is that a microsite fills a specific function to add value, in this case attract more traffic through social media, search engine optimization, and distribution via email newsletter... as well as our Local Connections features.
To get the most out of a Microsite, it needs to be cross-promoted as though the two sites are one. In this case, the primary site's navigation has links such as the Events link which connects to the self-updating community calendar and Blogs & Galleries which connects to their recent product posts and other updates.
Likewise, the Microsite links back to the main site in the navigation as well as links within the blog posts that go to the products referenced to help blog readers quickly become ecommerce shoppers.
All-in-all, a Content & Community Microsite is an affordable yet powerful way for a local business to enhance their digital presence in all of the ways that matter.
---