Unlocking Downtown Potential: Master Planning & Asset Activation with Downtown Redevelopment Services
A Locable Partner Webinar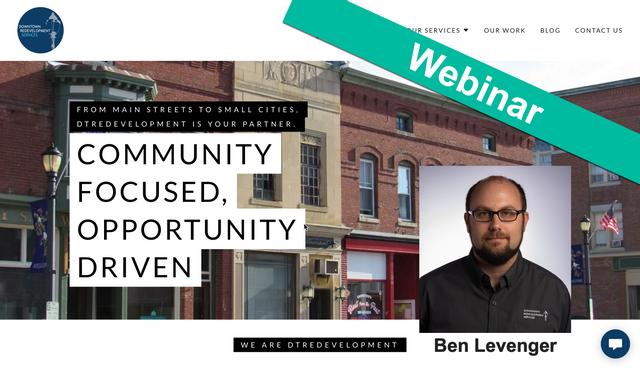 Description
Join us for a valuable webinar in partnership with Downtown Redevelopment Services, a downtown planning firm dedicated to helping communities maximize their efforts through asset activation and actionable plans.
In this webinar with Ben Levenger, Downtown Redevelopment Services's President, an overview about downtown master planning will be provided, specifically:

What is a downtown master plan: learn about what a downtown master plan is, and what it can do for your downtown.
How to prepare for a master plan: What you can do with your community to prepare and make the most out of your efforts & understand who can benefit most.
Process & expectations: Get insight into their methods and what communities can expect during the planning process.
Success stories: Hear examples of revitalized communities and businesses that have partnered with DTR.
Timeline & costs: Explore the timeframe for documenting success, the cost of downtown planning services, budgeting, and funding assistance.
Don't miss this opportunity to engage in a round table discussion and problem-solving session with fellow participants.
12:00 PM CDT
to 12:45 PM CDT
price
Private:No
RSVP Required:Yes
Accept Registration Online:No
Virtual Event
Please note that this is a virtual event and has no physical location.