Webinar Recap: Insights on Downtown Redevelopment from Ben Levenger, President of Downtown Redevelopment Services
---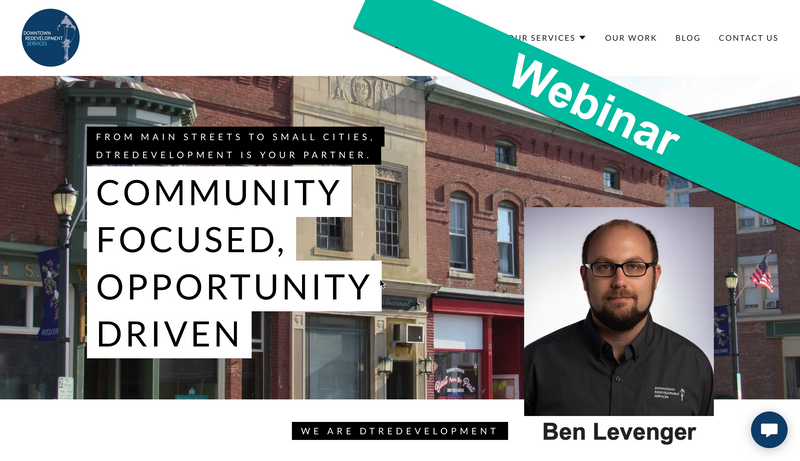 Recently, we had the privilege of hosting a webinar featuring Ben Levenger, President of Downtown Redevelopment Services. Ben shared his valuable insights and experience in downtown redevelopment, shedding light on the importance of effective planning and community engagement.
Ben started as a landscape architect and his early experiences in designing streetscapes and master plans for communities. He highlighted the frustration of seeing beautifully crafted plans sitting on shelves, unimplemented. This led him to start a company focused on practical strategies, asset mapping, and community-driven change.
He shared the benefits of incorporating an outsider involved in the planning process and engaging with the public outside of formal settings, such as in coffee shops, can yield more candid and valuable insights.
Finding a Consulting Partner
Ben stressed the importance of finding the right consultant or firm that aligns with the community's goals and characteristics. Different firms specialize in different contexts, whether it's small communities or larger cities. Trust and rapport with the consultant are crucial for successful implementation.
The webinar touched upon the fact that population size plays a role in determining the scope and focus of the downtown redevelopment process. Smaller communities may have different needs and dynamics compared to larger cities.
The timeline for the process can range from 6 to 12 months, depending on the community's goals and resources.
Creating a Framework for Change
A downtown master plan should serve as a framework for identifying needs, setting goals, and prioritizing actions. It is essential to differentiate between wants and needs to ensure a focused and effective approach.
By building critical mass and momentum, the plan can become actionable and lead to tangible results.
Ben discussed the importance of aligning plans with community visions, capital improvement goals, and demonstrated public support. By following this approach, communities can enhance their chances of receiving grants for implementation.
Wrapping Up and Watching the Recording
This planning webinar shed light on the crucial aspects of downtown redevelopment, emphasizing the importance of community engagement, strategic planning, and effective implementation. By aligning visions, leveraging grant opportunities, and creating a framework for change, communities can revitalize their downtown areas and create vibrant, thriving spaces for residents and visitors alike.
The discussion touched upon the significance of effective communication and engagement strategies. Communities must tailor their outreach efforts to reach locals and create awareness about ongoing projects. Utilizing newsletters, social media, and other platforms can help generate interest and gather valuable feedback from residents.

Want to check out the recording?