Revitalizing Your Business Directory: Key Considerations and Examples for Small-to-Mid Sized Community Orgs (Webinar Recap)
---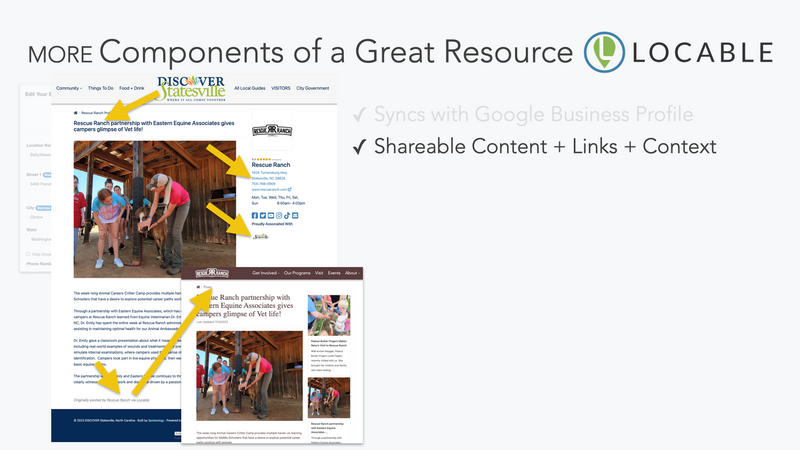 In this post, we'll explore key considerations and examples specifically tailored to small-to-mid sized community organizations, including Main Street Associations, Chambers of Commerce, and Tourism/CVBs.
Discover how an effective directory can make a significant impact on community engagement and economic growth based on our webinar, Revive Your Directory: How to Go from a Necessary Evil to a Powerful Tool.
Whether you missed the webinar or want a quick refresher, we've gathered the essential takeaways to help you optimize your business directory.
Webinar Agenda
This webinar is dedicated to guiding you on the journey of running an effective business directory. Whether you're new to directory management or seeking ways to enhance your existing one, this webinar is designed to cater to all experience levels. Our goal is to equip you with the knowledge and tools to curate a directory that not only benefits local businesses but also alleviates stress for you and your team.
Throughout the webinar, we delve into four main sections with aim to provide actionable insights that you can implement immediately:
Key elements of a good directory (and common mistakes)
Activating partnerships
Filling your directory effortlessly
Promoting and distributing content to maximize their impact
Common Pitfalls and Key Attributes of an Effective Directory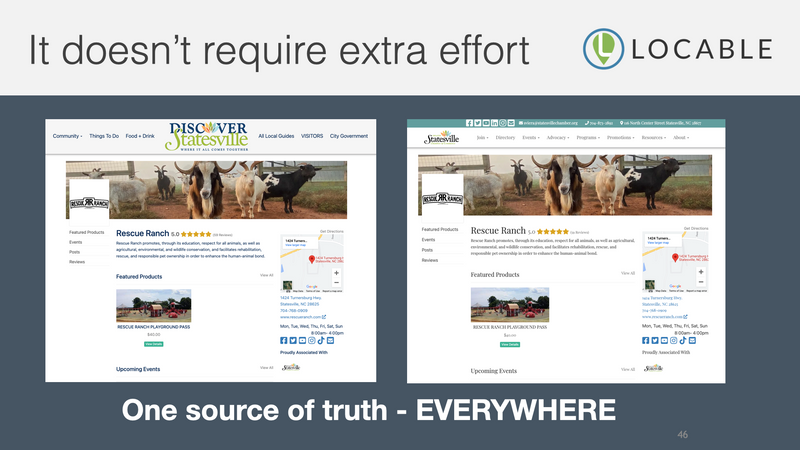 Navigating the path to a successful business directory can be a challenging endeavor, especially when faced with common pitfalls that may hinder its effectiveness. However, with the right approach and understanding of key attributes, your directory can flourish into an invaluable asset for your community.
In this section, we will shed light on these pitfalls and explore the essential attributes that lay the foundation for an outstanding directory.
Understand the challenges faced by small-to-mid sized community organizations when it comes to business directories
Explore the common mistakes to avoid and learn from real-life examples of successful directories such as missing data, bad user interfaces, difficulties managing the data, etc
Discover the key attributes that make a directory resourceful and valuable to both businesses and community members such as supplemental content, job openings, events, and more
Key Attributes of an Effective Directory
An effective directory should be:
User-friendly: It should be easy for users to navigate and find what they're looking for.
Visually appealing: Including images and logos can significantly enhance a directory's appeal.
Comprehensive: All necessary details, including full contact info and customer reviews, should be included.
Contextual: The directory should be integrated into your website in a way that it shows relevant listings on related pages.
Common Mistakes
Avoid these common pitfalls when managing your directory:
Overcomplication: Too many categories can confuse users. Keep it simple and high-level.
Lack of visuals: Images and logos enhance appeal and user engagement.
Publishing sensitive info: Avoid publishing email addresses to protect businesses from spam bots.
Not using branded URLs: Branded URLs enhance your brand consistency and SEO.
By recognizing and overcoming common pitfalls such as a clunky interface or incomplete business information, you can elevate your directory's potential to new heights. Embracing key attributes like user-friendliness and detailed listings will empower your directory to become an indispensable resource for locals and visitors alike.

Benefits for Hosting Organizations and Participating Members
A thriving business directory not only benefits the community it serves but also offers significant advantages to the organizations responsible for its management and the businesses featured within.
In this section, we will explore the compelling benefits that hosting organizations and participating members can enjoy through an effective directory.
Uncover the benefits of having an effective business directory for your organization, such as increased member engagement and visibility

Learn how a well-curated directory can drive traffic to local businesses and boost economic growth within the community through Google/SEO, social media shares, and even email distribution
Explore the advantages of utilizing Locable's platform, including automated promotion and distribution features powered by Local Connections™ technology
As you embark on the journey of directory management, it's essential to grasp the extensive advantages that a successful directory offers. From boosting community engagement to providing a platform for local businesses to shine, the positive impact reverberates throughout the entire community. Embracing these benefits will undoubtedly make your directory an indispensable resource, benefiting all involved stakeholders.

Watch the Webinar
Creating and managing a community calendar can be a daunting task, but it doesn't have to be. By understanding the four stages of community calendar growth and implementing effective strategies, you can build an impactful calendar that brings your community together.
Whether you are a community organizer, event planner, or someone passionate about fostering community engagement, this webinar offers valuable insights and practical techniques to revolutionize your approach to community event management.
Benefits of Using Locable
Locable offers a range of benefits for both hosting organizations and participating members:
Automation: Our tools automate much of the work involved in managing a directory.
Simplicity: We replace many other tools currently used by organizations, simplifying the process.
Community Engagement: Our tools help drive community engagement and boost the local economy.
Enhanced Online Presence: With our tools, businesses can enhance their online presence and reach a wider audience.