Spotlighting the "Meet Me on Main Street" podcast and the new website we built for them
---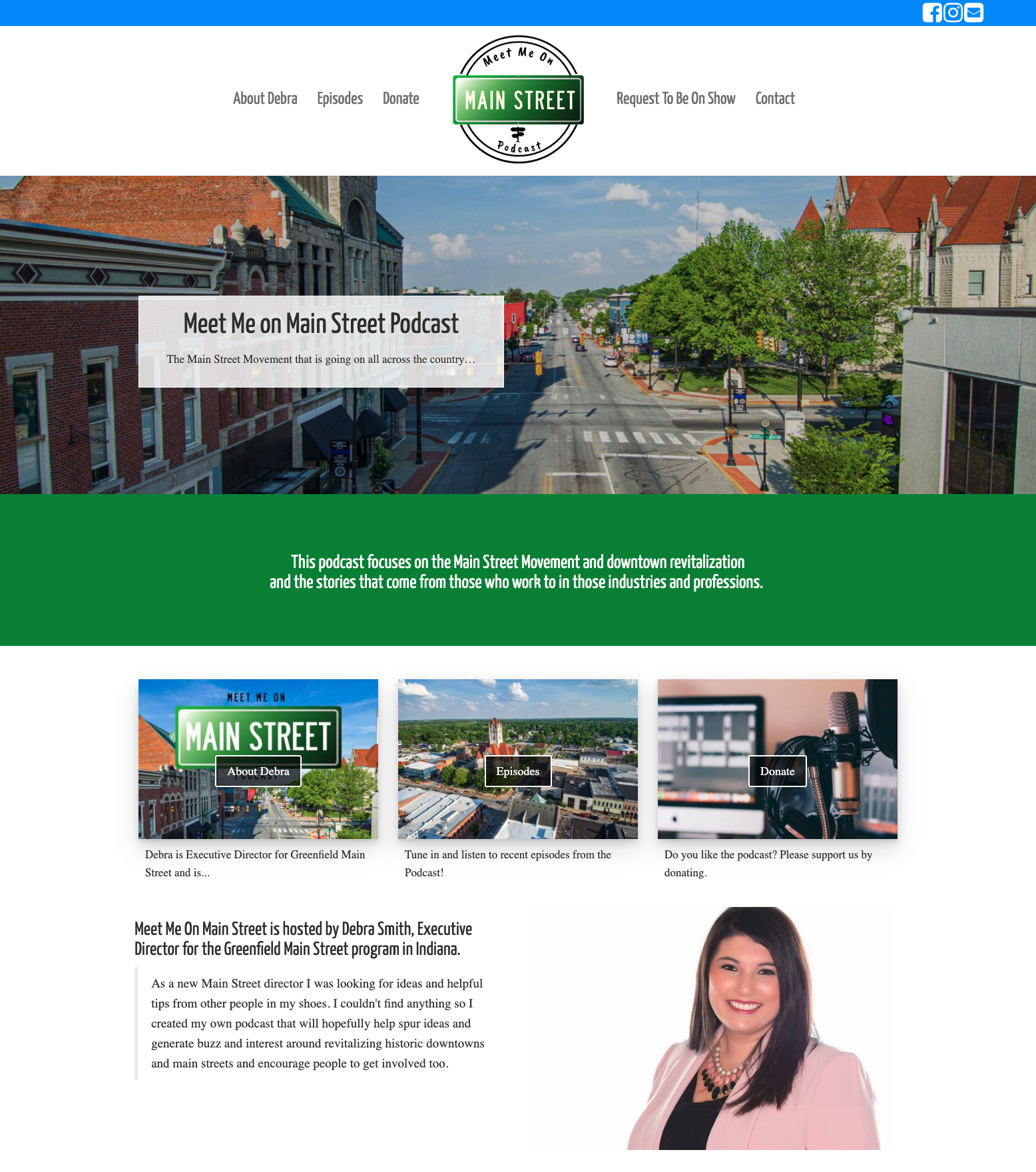 We're proud to have worked with a "Meet Me on Main Street" podcast to create a new website and home for them online.
This podcast focuses on the Main Street Movement and downtown revitalization and the stories that come from those who work to in those industries and professions.
You know how we love to support Main Street associations - really, communities in general - and we're been a Main Street America Allied Member
The website setup process
We took a simple website they had already created on another platform and migrated it into our system. In the progress process, we used our prompt-based approach from Marketing 3-4-5™ to get more insights and information from Debra - the Executive Director of the Greenfield Main Street program in Indiana and host of the podcast. 
We combined her content and design preferences with best practices in terms of website structure and content structure to create a site that's effective and reflective of what she's going for.
The website is an example of our Professional Assistance Lite package and her subscription is our Build Plan which includes blogging tools, cross promotional tools, our new Express Email Newsletter feature, website hosting of course, and much more.
What makes our approach unique is that she's in complete control of the continent that she posts, the blogging tools enable her to highlight each and every podcast episode so that she can get some search engine benefits in addition to being discovered on the podcast platforms. Plus, she can always ask us for help should she ever get stuck.
As is the case with many websites that we build, our Debra was busy and so we migrated existing content and limited what we needed her to provide to complete the website.
Having Locable set up my podcast website was a breeze and a great experience. My project wasn't their typical type of website/customer, but they were still very knowledgeable and executed my vision in a timely manner. - Read Debra's full review
We are excited to support her and her mission. She was looking to have a reliable website that doesn't require much effort on her part but that she can update when needed along with some integrated marketing tools that make promoting her podcast faster and easier while also reducing costs compared to other systems or services.
Websites are important but don't have to be major undertakings
All told, Debra probably spent 3 to 5 hours gathering information, photos, and communicating with us to provide us what we need to build out the site and get training on how to manage it going forward.
Locable's experience with hundreds of local businesses across the country in various industries has enabled us to simplify this process dramatically which saves the client time and enables us to be very efficient which means we can charge less than other comparable services. When you combine a simplified approach with our unique software and marketing solutions, local marketing gets a whole lot easier.