---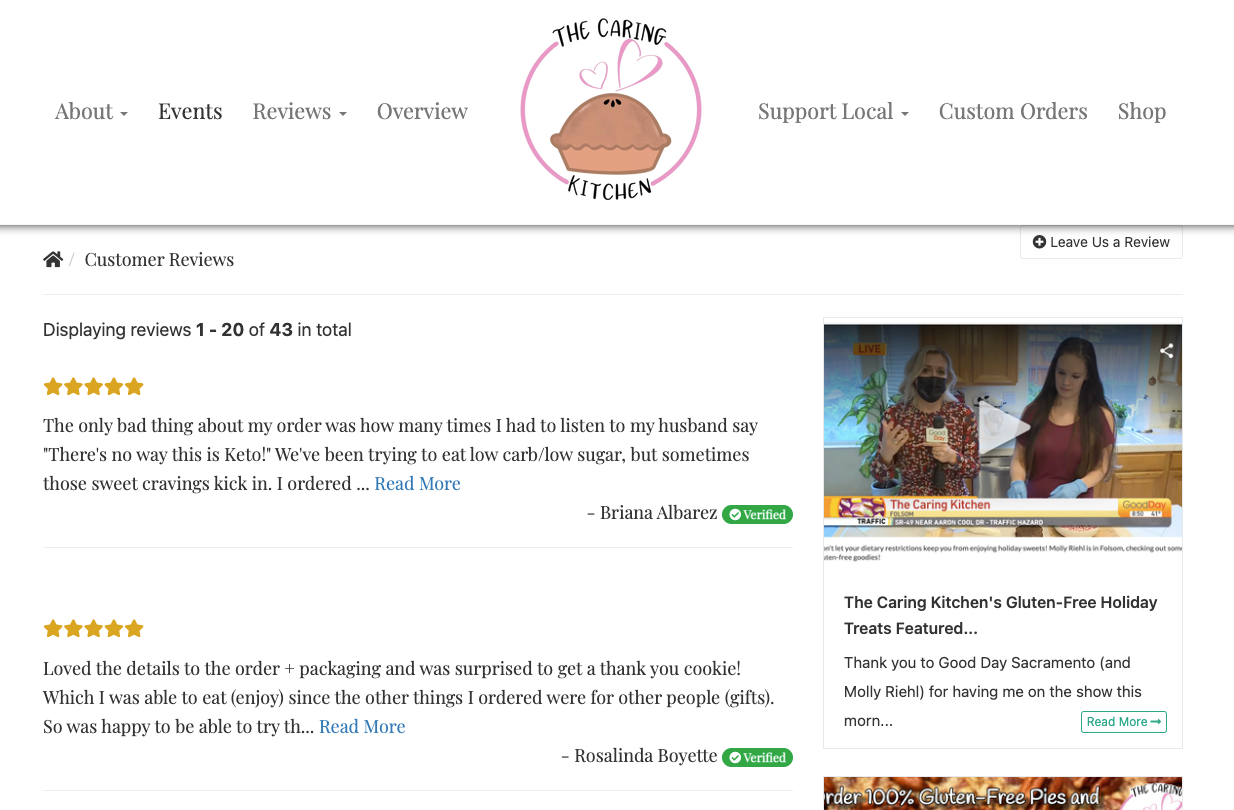 The Caring Kitchen is a gluten-free bakery in Folsom, CA that has generated over 40 5-star customer reviews using Locable's Customer Reviews tools.
Delaney, the owner of The Caring Kitchen, had sent a few review requests and included a Testimonials page on her website in addition to the Reviews page we automatically generate for her.
"I pay close attention to the content people look at (under the "Behavior" tab). I noticed that quite a bit of new visitors were looking at the "reviews" section of the website.
From a few reviews to dozens
After realizing that the reviews page was getting some attention by her website's visitors, she decided to make a little push to drive more reviews.
"So I reached out to several previous customers requesting reviews. I sent messages to about 40 people."
While not everyone who gets a review request leaves a review, Delaney estimated that 22 of the initial people left a review within a couple of days. She picked up a few more before sending individual personal messages to people with her link to leave a review.
We encourage you to let customers know that reviews are important to you as part of delivering your service and let them know to expect a review request when your work is done. You can find more suggestions for how to prepare your customers for reviews in Marketing 3-4-5™: The Business Owner's Guide to Effective Local Marketing in 15-Minutes or Less
The tools in your Locable account enable you to send a request that asks, "On a scale of 1-10 how likely are you to recommend your business to their friends?" and then collect reviews and feedback without requiring any sign up or sign in.
While the process is smooth, there are things you can do to drive even more reviews.

"To people looking to generate reviews, I would suggest what I did, and that is to reach out to them personally. I told customers that I'm getting quite a bit more traffic on my website because of the holidays and that the more reviews I have, the better. The ones that responded were more than happy to do so.
Customer reviews are always appreciated as they help you demonstrate social proof and make you feel good. They also provide more content that Google can see about your business, content that uses words and phrases that your customers use at that.
That said, don't forget to share your reviews to social media and via email newsletters - it's ok, pat yourself on the back.
A culture of customer reviews
Sometimes, getting that first review is the hardest but if you have just a few minutes to spend it can be a great investment in your business. When you request reviews, you also remind happy customers to tell their friends about you.
From there, you can show reviews on your website in a variety of ways including organizing them by product or service lines. Once rolling, customers can leave reviews for you right through your own website.
"Oddly enough, I had 2 people leave reviews in the last few days that I didn't reach out to. I'm not even sure who they are, just that they've bought from me at farmers markets."
Recently, we added the ability to post reviews that you received directly or from other sources in your Locable account to display alongside verified reviews in addition to adding replies to the reviews your receive.