Are You Breaking the Law? Common Illegal Mass Email and CAN-SPAM Violations
---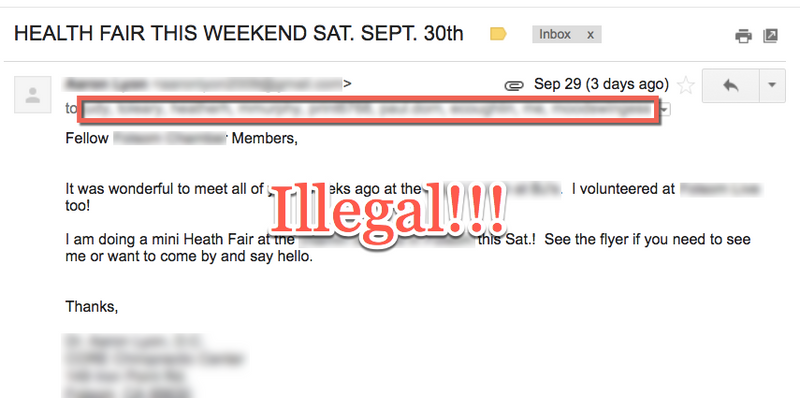 Over the weekend I received not one but two different emails that seem to violate the CAN-SPAM law governing the sending of mass emails.
I realize that local businesses regularly break this law, not with malicious intent but, out of ignorance so I wanted to briefly shed some light on a couple of common offenses, the potential cost associated with the infraction, and a way to fix the problem.
According to the FTC page (emphasis added),
Each separate email in violation of the CAN-SPAM Act is subject to penalties of up to $40,654, so non-compliance can be costly.
What made the emails I received spam and thus illegal?
There were actually a couple of different infractions.
I was included as a CC recipient on one (see image) and a BCC recipient on the other
Neither had an opt-out or unsubscribe option
And finally, neither of the emails included the physical address of the sender
If you're going to send bulk emails you should use an email newsletter service, our Express Email Newsletter service makes sending emails faster while following our Marketing 3-4-5™ approach to get more out of your efforts.
Of course, any reputable email newsletter provider will also take care of all 3 of these issues by sending one email to each person as the recipient, including relevant links, and managing all unsubscribes, and they require you to include your address in each email.
I realize that slapping some emails in the CC or BCC line is a little quicker than adding people to a list but it's not much quicker and it's definitely the more professional, and legal, option.
It's not just illegal but hurts your deliverability
In addition to breaking the law, people will mark your content as spam which will hurt the deliverability of future messages to EVERYONE you email. What's the point of sending emails if they're ending up in spam folders?
Oh, don't buy email lists or send emails to purchased or "rented" lists, ever. It's bad, illegal and it won't work!
---
Want to do email quickly, the right way and improve your overall marketing?