How We Got Historic Folsom's Website on the 1st Page of Google 100% of the Time
---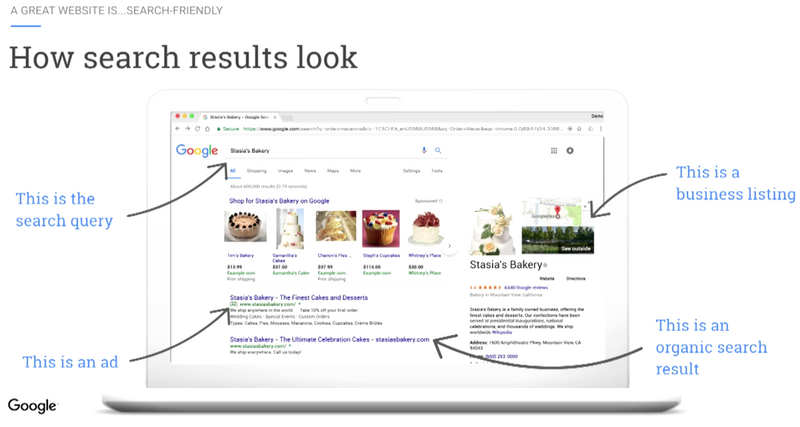 We love working with Downtown Associations, Main Street Associations, Chambers and Merchant groups and one thing they all want is more exposure on Google (and to a lesser extent, Bing).
Earlier this year we started helping Historic Folsom grow their website as a resource which includes producing merchant spotlight articles. This is a type of local business blog post.
The goal is to provide a unique perspective and, hopefully, uncover a little nugget that most locals might not know about the business or business owner.
These are friendly, get-to-know-your-neighbor human interest articles which makes them very sharable to social media and email newsletters. As a result, they play very well with search engines too.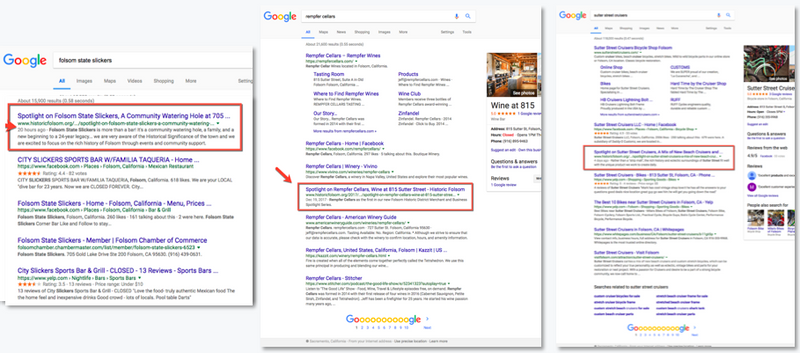 As you can see in the screen shots above, there are three articles that we ran that appear on the first page of Google when you search for the business featured in the Spotlight Article by name.
As a membership organization, imagine ranking on the first page for 10% - 20% - even 50% of your member businesses when they're searched by name!!!
The actual placement changes over time and articles will likely lose prominence in the coming years but they've demonstrated incredible staying power.
In the case of Folsom State Slickers (a new business), it not only appeared on the first page just 20 hours after publishing it appeared in the first position!
Some businesses are more active in their digital efforts and, as a result, are harder to quickly rank for.
This download includes many of the prompts we used to create the content
6 key attributes to creating a compelling Local Spotlight article than ranks well on Google and plays well on social media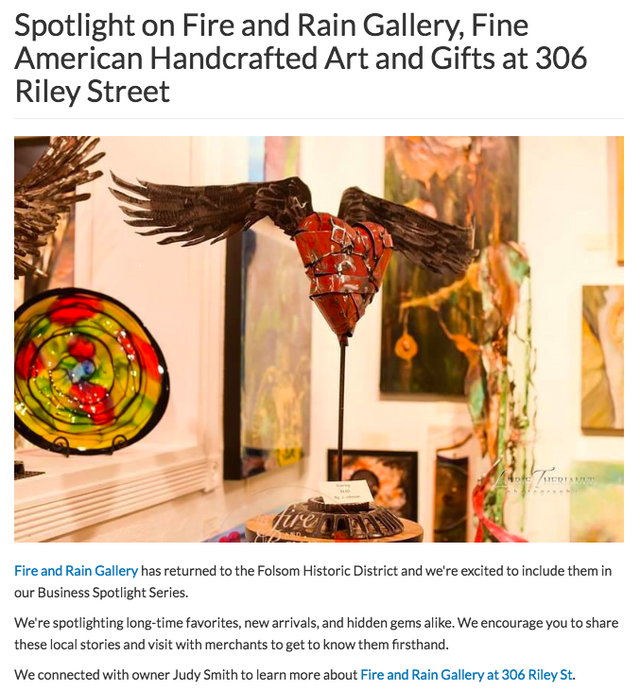 Using the Fire and Rain Gallery post as an example, here are the key elements to include:
An Effective Title
The title of any page or post is incredibly important - ideally the HTML Title Tag and the visible title are the same or very similar.
The title caries significant search engine weight, it's obviously the first thing someone sees when visiting, and it's what's included as a preview when shared to Facebook.
In this case an effective title is intentionally a little verbose and includes:
the business name,
a brief description of the business
and the street address
Internal Site Linking
In the body of the article we include the business name again very early and we link to the directory listing that exists for the business on the Historic District's site.
This can be used with any directory but works quite nicely for the directory included in our free Local Connections™ features. The directory listing should include their key information and a link to their website.
External Linking
Later in the introduction reference the business gain and confirm their street address. We link this entire text to their website.
Using both the business name and address throughout
Most of these articles have a Question and Answer cadence. We incorporate the name of the business in the questions. This is a clearer and more explicit way to write plus it ensures we use the key phrase(s) that are most important.
Ask why?
It's always nice to hear in a business owners' own words why they are a part of your organization. Simply asking "why" is a great way to document this for potential members in the future... plus their answer is often insightful for you.
Include a CTA
This is true of every page or piece of content. You need a strong Call-to-Action so that when someone completes the article they continue on your site.
For most, that means prompting someone to "Explore Our Merchants" or "Check Out Our Upcoming Events".
This is a chance to expose your new visitors to more content and, again, it's an internal link Google will follow.
Parting Thoughts
Remember to include proper formatting and short paragraphs so it's scanable - notice the bold and header sizes on this page? - you have to demonstrate value before people will commit to reading.
Don't limit yourself to members of your organization, you can include reference to others your support or want to highlight like this article we did supporting Sacramento-Area Main Streets and Historic Districts.
---
Create Your Free Locable Account Today
- or - 
Contact Us to Learn How We Can Help Your Organization and Community