Community Calendars - How-to Ignite Engagement and Drive Growth Despite Challenges (Includes Webinar Replay)
---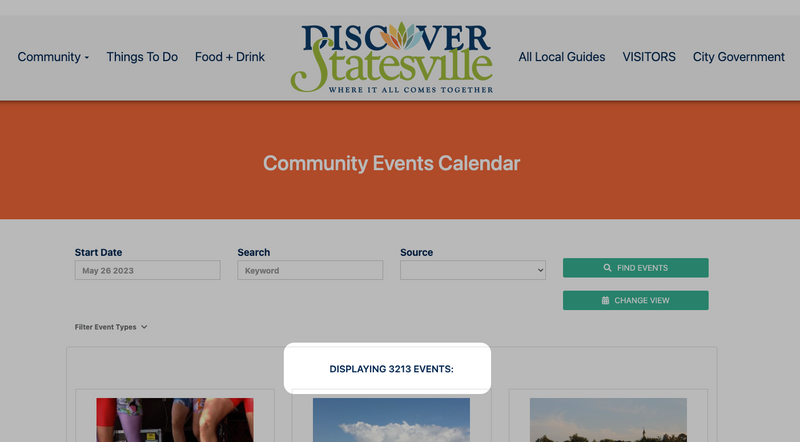 Whether you are just starting or looking to enhance your existing calendar, this guide and the webinar recording provide valuable information for all levels of experience with a focus on Community Marketing Organizations such as Main Streets and Downtown Associations, Chambers of Commerce, Tourism Bureaus and CVBs, Community Foundations, and the like.
A thriving community is built upon a shared sense of connection, engagement, and opportunity. At the heart of fostering this vibrant atmosphere lies a critical element: a robust community calendar.
Beyond its role as a mere schedule of events, a well-crafted community calendar becomes the central meeting point that ignites emotional attachment, creates new revenue streams, and establishes a strong sense of identity for both locals and visitors alike.
The 4-Stages of Community Calendars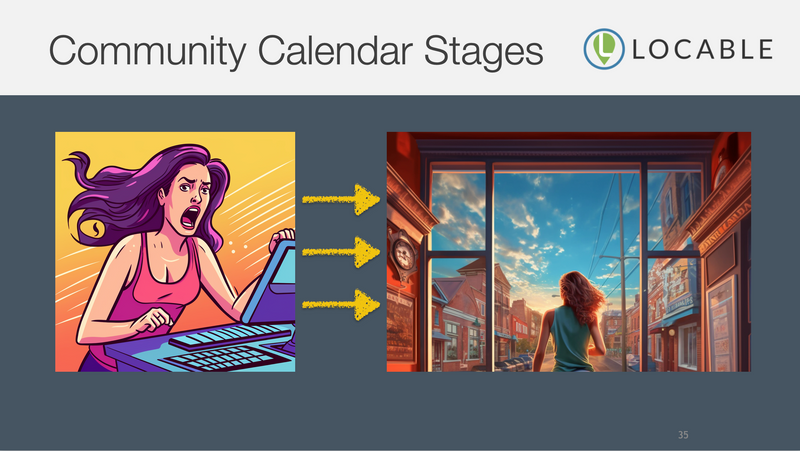 In the realm of community calendars, there is a common journey from useless or nonexistent calendars to resourceful and finally, to streamlined Community-Wide Calendars.
These stages reflect the challenges faced by organizations, from manual interventions and reliance on a single staff member to the quest for a sustainable and collaborative solution.
Phase 1 - Nonexistent or Useless calendar (includes an overreliance on Facebook)
Phase 2 - Resourceful but manually driven with a primary contributor
Phase 3 - Streamlined through automation

Phase 4 - Unified calendar data throughout the community
In the initial stages, many organizations are burdened with useless or incomplete calendars that require substantial manual intervention. Often, a dedicated staff member, such as someone from the Chamber, Main Street, or Tourism organization, is left with the daunting task of curating events. This approach quickly proves to be unsustainable, leading to frustration and burnout. As a result, it's not sustainable.
It's true that many calendars in Phase 1 and Phase 2 allow for "user submitted events" however this approach largely fails due to what we lovingly refer to as, "Not another calendar syndrome."
Resourceful calendars generally start to involve businesses and organizations that actively contribute to event listings. However, it still requires significant manual effort, posing challenges in maintaining accurate and up-to-date information - especially when event information changes or cancellations occur. In many cases, there are few contributors.
Perhaps it's for this reason that our unique Community Calendar technology is the single most popular feature community marketers are interested in.
This document explores the key components and strategies for building a thriving community calendar that promotes civic engagement.
Unlocking Partnerships and Prioritizing Efforts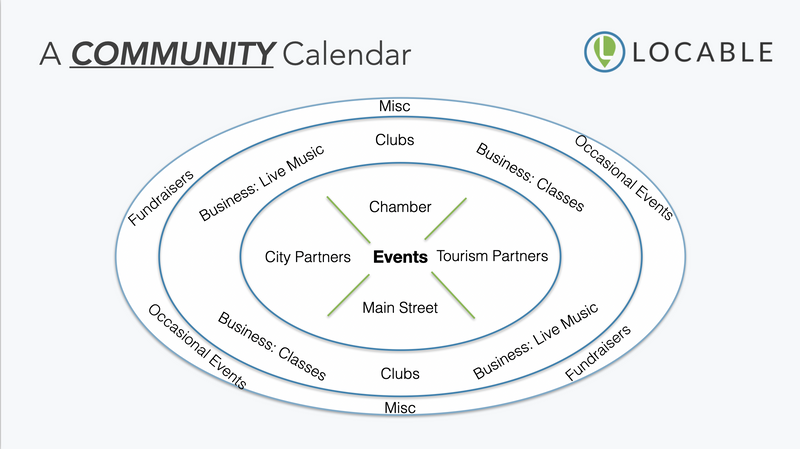 An often overlooked element of a community calendar is that there are multiple driving stakeholders such as the Chamber, Main Street, Tourism, City, and potentially others like Community Foundations and Rotary Clubs etc. These organizations, though aligned in their goals, often miss out on opportunities to collaborate due in large part to limited resources.
Each of these organizations has events they want to promote and member or constituent businesses they seek to amplify.

More than that, a Main Street merchant or Chamber member may want to amplify the Main Street or Chamber by including their events on the small business website - much like they feature flyers in their windows or on a corkboard in their store.
As such, the chamber, Main Street, tourism group, and others invest resources trying to find their stakeholder's happenings through brute force scouring Facebook and other places.
Yet, it doesn't have to be this way. These organizations don't have to retread the same ground, chasing events from local businesses and nonprofits.
The Dutch computer scientist Jan van de Snepscheut once said, "In theory there is no difference between theory and practice. In practice there is."
This wisdom perfectly encapsulates the challenge and opportunity present in activating partnerships. In theory, collaboration is a no-brainer. In practice, it requires a shift in approach and the right tools.

It's important to identify potential event partners and prioritize based on the frequency and number of events in addition to their general interest in cross-promoting with you. Unlock the potential of partnerships by leveraging your existing networks to enhance the reach and authority of your community calendar is a key step forward.
Becoming Sustainable through Technology that Streamlines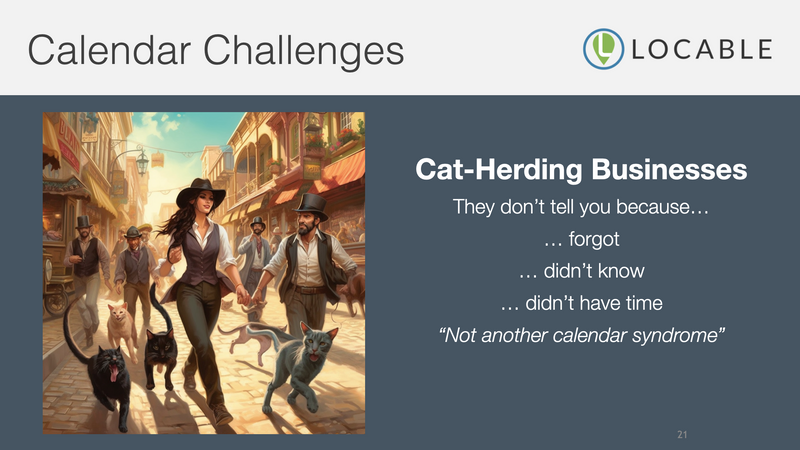 Running a community calendar is often compared herding cats - it's a miserable experience for many as small businesses and partners alike simply don't communicate what they're doing.
Building a robust community calendar involves overcoming two primary challenges: insufficient event promotion and the fragmentation of information across the internet. Many events go unnoticed due to a lack of effective promotion, while the fragmented nature of online information hinders discoverability and engagement.

A breakthrough occurs when a community embraces a streamlined approach to calendar management. By leveraging Locable's Local Connections™ tools, event producers can seamlessly distribute their information without the need for manual submissions. This enables businesses to stand on their own two feet, taking ownership of their events without requiring they post to local community calendars while freeing up valuable time for destination marketing organizations.
At the pinnacle of the community calendar evolution lies the United Community-Wide Calendar, where Main Streets, Chambers, Tourism organizations, and other community associations unite through a shared database of events.
Each organization can incorporate events from appropriate businesses or organizations automatically for instance, a business that is both a Main Street merchant and Chamber member would appear in both calendars automatically.
This unified platform harnesses the collective strength of organizations, eliminating redundancy and amplifying the impact all events in their community. The result is a cohesive event landscape that drives engagement, fosters growth, and generates significant buzz within the community.
These stages reflect the challenges faced by organizations, from manual interventions and reliance on a single staff member to the quest for a sustainable and collaborative solution.
Driving Visitor Interest and Revenue
A community calendar with a wide variety of events acts as a magnet, attracting visitors from near and far.
Festivals, cultural events, sports tournaments, and art exhibitions all contribute to the vibrant tapestry of experiences a destination has to offer as do the much more plentiful small local events and activities run by local businesses, nonprofits, libraries, parks & rec, museums, and more.
Visitors are drawn to communities with an active and lively event scene, leading to increased tourism, extended stays, and a boost in local businesses.
Economic development efforts are amplified when the businesses you're courting see your community as a place they'd like to raise a family and relocate their employees to.
A robust community calendar becomes an essential tool for destination marketing organizations to showcase the unique experiences their community has to offer.
Creating Engagement and Emotional Attachment to the Community
By offering a diverse range of events, activities, and initiatives, a comprehensive community calendar creates a sense of belonging and excitement among locals. It becomes a platform for individuals and organizations to showcase their contributions to the community, fostering a strong sense of community pride.
With accurate and nearly comprehensive event information readily available, community members can easily discover and engage with local activities, fostering stronger community connections.
Residents are more likely to actively participate, connect with one another, and develop a deeper emotional attachment to their community.
Go further with our Event Promotion Marketing & Content Plan or join us on our webinar "Quick & Effective Event Promotion, The Marketing 3-4-5™ Way".
Avoiding Scheduling Conflicts and Maximizing Participation
Strategic event planning can be challenging when multiple organizations target the same audience on the same dates.
A community-wide calendar helps avoid scheduling conflicts, ensuring maximum participation. By having visibility into other events happening in the community, organizers can strategically plan their activities to complement, rather than compete with, existing events.
This coordination leads to a more cohesive event landscape, enhanced attendee experiences, and increased overall community engagement.
Empowering Businesses and Avoiding Burnout
Relying on a single staff member, or even a team, to seek out and populate a community calendar is not sustainable. It can be soul-crushing, leading to burnout and eventually resulting in an empty calendar.
A solution must involve businesses, as they are the lifeblood of a community. Businesses have their own events and promotions that need to be showcased.
Businesses shouldn't rely on the destination marketing organization to be their marketing department. Instead, a collaborative approach can empower businesses to stand on their own two feet and actively contribute to the community calendar. Locable provides a robust suite of free and low-cost tools to support local businesses including participation in event promotion and distribution for free forever.
This ensures a continuous flow of events, enriches the calendar with diverse offerings, and takes the burden off a single individual.
A Champion Can Accelerate the Process
A robust community calendar serves as a catalyst for driving engagement, emotional attachment, revenue generation, and visitor interest. It brings communities together, creates a buzz of activity, and instills a sense of pride among residents.
Destination marketing organizations have a unique opportunity to leverage the power of a comprehensive calendar to promote their community, attract visitors, and ensure a vibrant event scene. Often, these organizations drive the implementation of a calendar - simply by effectively cross-promoting events between other leading organizations is transformative for a community where a Chamber, Main Street, and Tourism are able to move beyond supporting each other in theory to doing so in practice.
Driving business participation provide a massive upside and is a point of concern for most communities that fear business owners won't participate. Indeed, every community is comprised of some businesses who act as deadweight while others are eager to jump in. Most, however, simply need to know what's in it for them, they need to know participating is within their means (time, energy, confusion etc), and they need to know that participating usually takes less time and provides more benefits than what they're currently doing.
In the most engaged communities, there is often an individual who encourages businesses to participate - a local maven who, like Paul Revere, can provide the rallying cry necessary for this robust resource to emerge. They act to drive participation by spreading awareness, showing examples of others who are already participating, answering questions, and sometimes guiding basic setup - in this case, doing something new can be scary even when simple and clearly valuable.
This was Cindy Sutton at Spokeology that drove efforts throughout Statesville - our oft-referred to flagship community - and now her team acts as a value add to their community and clients.
By embracing collaboration, empowering businesses, and streamlining efforts, communities can thrive and create a lasting impact on both residents and visitors.
A Community Legacy
A robust Community Calendar holds the power to transform a community and leave a lasting legacy.
By harnessing the capabilities of simple technology and embracing collaboration, communities can unlock the true potential of their calendar and event information. It becomes the heartbeat of the community, showcasing the unique experiences and offerings that make it special.
With a streamlined and unified approach, businesses become active contributors, the burden is lifted, and the calendar flourishes with diverse and captivating events, making it a valuable resource for both locals and visitors.

By rallying together, chambers, downtowns, tourism organizations, and other associations can create a community-wide calendar that amplifies their collective efforts while moving beyond useless or manually intensive to streamlined or even united.
We'd love to be a part of your journey, to help you and your community #TakeBackLocal.
Supplemental Content for Enhanced Engagement
Complementing the community calendar with supplemental content amplifies the impact of events and provides additional context.
Creating companion blog posts, event preview articles, and event recap articles humanizes the stories behind the events and strengthens connections with the community. These pieces highlight sponsors, vendors, and beneficiaries, creating a sense of involvement and promoting ongoing promotional value.
Sharing participant experiences further enhances community engagement. By featuring testimonials and conducting Q&A sessions with attendees, businesses can showcase the positive impact of events and encourage wider participation.
Watch the Community Calendar Webinar
Creating and managing a community calendar can be a daunting task, but it doesn't have to be. Watch the example-filled webinar on running a community calendar to create a vibrant resource for your community while cutting the stress for you and your team.
The webinar included 4 main sections:
Activating partnerships
Promoting and distributing events to maximize their impact
Key elements of a good calendar
Filling your calendar effortlessly
Finally, we spent a few minutes looking at what a United Community Calendar looks like, the tools that put this on autopilot, and how every community can implement this approach.
Learn how to leverage existing networks and build fruitful partnerships to enhance the success and reach of your community calendar.
Whether you are a community organizer, event planner, or someone passionate about fostering community engagement, this webinar offers valuable insights and practical techniques to revolutionize your approach to community event management.