Which is Better, Posting to a Blog and Sharing or Directly to Facebook? Here's the Answer... Updated November 2018
---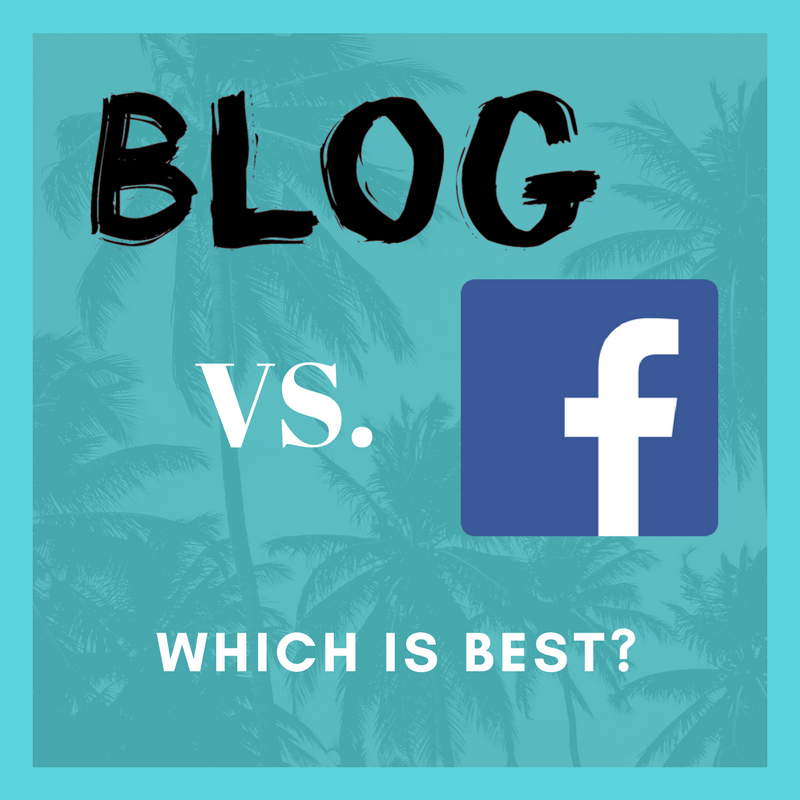 Just last week while attending a Folsom Chamber function I had the honor to sit next to Anna from HiCoffee and she asked me a question I get regularly:
Is it better to post a "blog" post to my website and share it to Facebook or simply post directly to my Facebook page?
This is a great question that has a resounding answer... Businesses should post to their website first and then share it.
Simply put, when you post to Facebook you get only one benefit but when you post to your own website you benefit in multiple ways without extra effort
You should have a Facebook page and a basic social media presence, here's a free guide to help you get started, but your blog gives you more control and more benefits than posting directly to Facebook. Here are a few examples highlighting why posting content to your website and distributing it is more impactful.
Content Improves Search Engine Optimization (SEO)
Google and Bing love content and, as a result, business blog content provides businesses with a natural SEO boost. Plus, search engines like to see that content is engaging so whenever your content is shared to social media (even by you) it can further reinforce your position.
Your Website is Better than a Newsfeed
Facebook is great but it's also very limited, by design. Your blog gives you far more options to present your message and your business. This is better for readers and it's better for you.
It's also easier for you to expose more relevant content and information to readers compared to on Facebook alone. Effective local websites can be incredibly affordable and should be easy for you to manage without technical assistance.
Include a call-to-action (CTA)
Getting someone to read your content is great but you want them to take and action like calling or coming into your store. Within your blog, you can create your own calls-to-action and update them whenever you'd like to get readers to take action.
Our software makes centrally managing and tracking CTAs super easy.
Grow Email Lists with Opt-ins
Social media is sexy but email newsletters are still more powerful. Better yet, one piece of content can go to both places! Plus, if people find your content on your website/blog then you can prompt people to sign up for your email newsletter - win/win!
This is even more important now that Facebook is no longer a viable free option for most businesses and the same thing is happening on Instagram.
Historically, email newsletters were time-consuming to create and send but now you can quickly distribute your content via email.
Present to Website Visitors
What about people who find your website from Google, Yelp or other directory listings, a referral or anywhere else other than Facebook? Well, if it's on your website it's useful to them but if it only lives on Facebook then you're out of luck.
Blog Posts Have a Longer Life Span
Facebook, and the Newsfeed, is like a river and if you look away then the content flows on by. Very rarely do people actually visit a business's Facebook Page as nearly all interactions people have with your business is in their newsfeed (like 99%!).
Posts on your website are more accessible in a wider variety of ways, you can even reshare them to Facebook more than once or schedule them for a repost in the future.
Blog Posts Look More Professional
Let's face it, a post on your website looks more professional than one on Facebook where anyone can post anything. Perception is a powerful thing.
Highlighting activities from your business is the most simple way to help people understand the value you deliver and you can create content in under 15-minutes with Guided Blogging.
But... I don't have a blog or an easy way to update my website
No problem, creating a Content & Community Microsite is easy and inexpensive - Contact Us to Learn More. Best of all, you can have complete control without rebuilding your existing site (though if your existing site is truly lacking that deserves attention too).
So, what should be posted directly to Facebook, then?
Facebook is currently pushing video - especially their Facebook Live feature though recorded videos as well. If you have a reason to share something in real-time or you see something happening then you should probably "go live" from your page - Here's an example of something we shared that played well.
Note, it's likely NOT something directly related to your business unless you run a venue and there's a cool live event like live music.
Sharing other business, charity or community posts on your page is a nice way to have "more to say" while playing nice with your community. Just be sure to add your own custom message so it feels authentic and engaging.
You may find yourself with something irreverent that you'd like to share but that doesn't really fit on your blog - in part because of that whole "professional image" thing mentioned above. Sharing some quick-hitters is fine, here's an example.
In some cases, you may share a quick hitter or a Facebook Live video then do a longer write up as a blog and share that - that's fine too!
Be careful with spending money on Facebook, boosting posts don't often get the reach Facebook estimates.
So, if you're making the time to create content and build your brand make sure your website which you own and control is where the majority of that activity lives and is accessible.
---
---