Guided Business Blogging with a Prompts-Based Approach is Here and It's Spectacular
---
Prompt-based Business Blogging templates
At the heart of simplifying marketing are prompts - simple questions that every business owner or manager knows the answers to without really having to think.
As a result, creating content is fast, efficient, and doesn't require any creativity.
We've built out 12 initial templates, each has its own set of prompts that you simply answer. These templates can be used by any industry and, at the time of publishing, include:
Highlight a Creation
Product Overview & Unboxings
Staff Pick
Spotlight an Experience
Event Preview
Event Recap
Profile a Cause or Nonprofit
Profile a Partner or Vendor
Employee Recognition
Volunteer Recognition
Customer Spotlight
FAQ Post
Once done, you publish your post and your blog is created (the prompts are not shown publicly).
You can add your own prompts or sections, skip prompts that aren't relevant, add pictures or a gallery, upload a video, include a Call-to-Action or inline form, and much more.
We're now using Guided Business Blogging at Locable to create our own content - like this post which is using the Product Overview & Unboxings template.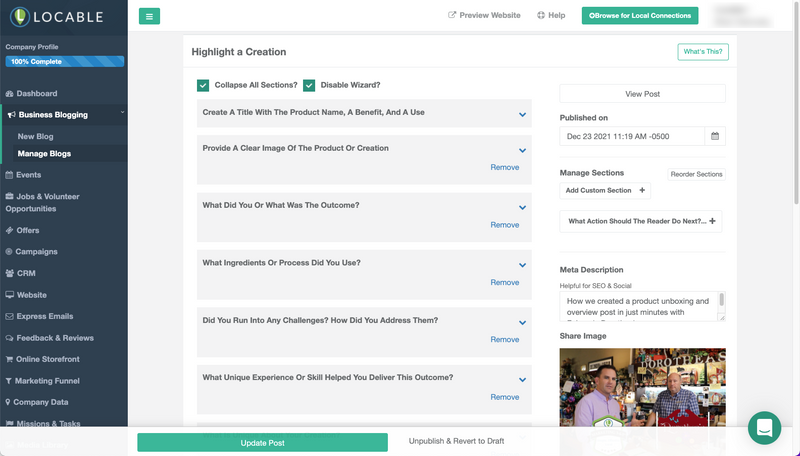 Oh, you're busy? You still have enough time to create content now
People are surprised at how quickly they can create content with a prompt-based approach.
With it built into your Locable account, you can now do this on your computer, tablet, or phone. You can even use your device's voice-to-text to answer questions for your initial draft - you should probably give it a read thru though ;)