Breaking Free From Drag-and-Drop Email: An Easier and More Effective Approach
---
The Pitfalls of Traditional Email Creation
If you're involved in marketing and use email newsletters, you know their impact. But oh boy, can they be repetitive, time-consuming, and a source of procrastination!
Crafting an email traditionally is not just a chore, but a significant time commitment. On average, it can take 45 minutes to an hour just to assemble a single email. This includes the tedious process of uploading photos, copying and pasting text, and formatting everything to look just right.
But, even after all this time and effort, it's so easy for things to go awry.
How many times have you sent an email, only to realize you included the wrong link?
Is Drag-and-Drop Really the Gold Standard?
The drag-and-drop editor is often hailed as the "gold standard," but while it may make sending emails easier for the less technically inclined, it doesn't necessarily make it faster or more efficient to send effective emails. It simply provides an interface.
Drag-and-drop email promises simplicity, but in reality, you spend more time wrestling with blocks and columns while you're trying to craft your message.
The result?
Emails aren't sent very regularly and you're left feeling soul-crushed, having spent so much time on something that simply doesn't deliver the results you were hoping for.
Email as a Distribution Channel: Improving Efficiency and Effectiveness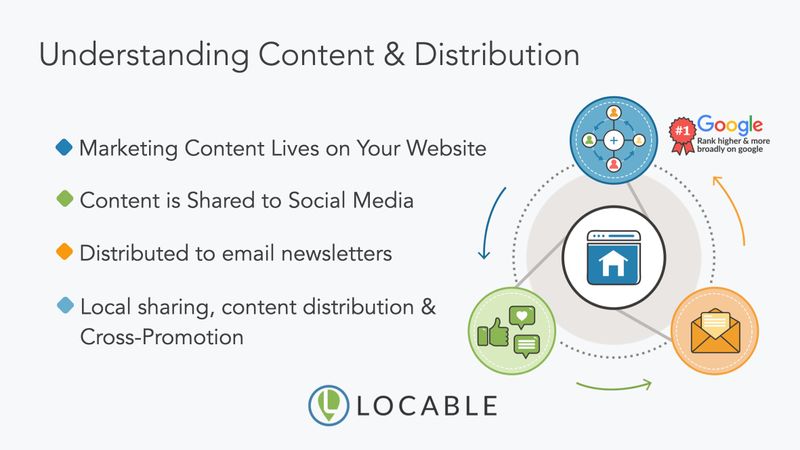 We believe there's a better way. A way where you can create and send an email in under five minutes. A way that is less prone to errors and focuses on sharing content that automatically links back to your website.
One major advantage of email is its potential for distribution. But this advantage is only fully realized when you focus on using email as a distribution tool rather than a creation tool.
Content lives on your website, you distribute it, and you cross-promote it with your local connections. With Locable, we have a range of tools to automate this process.

This approach makes email marketing simpler and faster because you're not recreating the wheel every time you need to send an email. Instead, you're leveraging the content you've already created - or was created by your Local Connections™ - and distributing it effectively.

It encourages your email subscribers to engage with your content, visit your website, share on social media, and attract more visitors to your site from social platforms. All of this activity is being monitored by Google, positively impacting your website's ranking.
This is where our Express Email Newsletter feature comes in. It's designed to make sending emails quick, usually in around 5-minutes, with zero design and nearly zero writing.
With Express, you start by creating a brief campaign name to stay organized, add a subject line to get people to open the email, and add some teaser content to drive clicks. You're not writing the email here, you're merely teasing it.
The magic happens when you choose the content to include. You can limit it to your own content, or pull in content from your local connections. You can add an upcoming event, or feature an event. The preview of your email shows your logo, your intro, your featured content, and some other happenings.
Take Back Local: Saving Time and Making Marketing More Effective
The advent of drag-and-drop email builders was meant to alleviate some of the pain, but the reality is, it often just simplifies the process of producing subpar emails. The shift to viewing email as a distribution channel, however, changes the game.
This is the crux of the Marketing 3-4-5™ approach. Instead of spending excessive time designing emails and crafting new content for each campaign, you can focus on reusing and repurposing the quality content you've already created.
This shift also reduces anxiety around email marketing. No more procrastination because you dread the thought of designing another email. With the distribution approach, you can quickly assemble and send emails, knowing that they will be effective and on-brand.

So if you want to save time, be more excited about your marketing, and still leverage email as an effective channel, check out Express.
We also have tools to improve your ability to quickly create content with our Prompt-Based Guided Blogging and event promotion tools dramatically improving that part of the equation. By saving time and making marketing more effective, that's what we mean when we say helping you "Take Back Local."

Embrace the power of distribution with Locable's Express Email and Marketing 3-4-5™ approach, and discover just how easy and quick email marketing can be.