Creating a Community Hub: A Case Study with Main Street Murfreesboro
---
An Introduction to Main Street Murfreesboro
Nestled in the heart of Tennessee, the city of Murfreesboro is home to a thriving local businesses and an engaging community culture.
The historic downtown area, covering 20 blocks, is particularly noteworthy. The city's walkable Public Square surrounds the 1859 historic Rutherford County Courthouse. Beyond the Square, vibrant side streets house approximately 400 locally owned businesses. These businesses serve as the backbone of the community, offering residents and visitors alike a taste of Murfreesboro's unique charm and character.
Main Street Murfreesboro is a community-centered organization that anchors the historic heart of Murfreesboro, Tennessee. With a steadfast commitment to maintaining, enhancing, and promoting the historic downtown area, this organization works to transform the area into the cultural, social, professional, and retail center of Rutherford County.
Main Street Murfreesboro implements The Main Street approach consisting of the 4 transformation strategies:
Design
Economic Vitality
Organization
Promotion
As a result, the downtown area has become an "experience shopping" hub, where people can interact with fellow shoppers and merchants while supporting community retailers.
The local businesses, located in historic buildings, preserve an authentic sense of place and reflect the unique character of the community through their diverse products, services, and atmosphere.
Before Locable - Where They Were
Before adopting Locable, Main Street Murfreesboro, like many organizations, relied on a fragmented array of tools to manage their marketing efforts. A WordPress-powered website served as their primary digital interface, while separate solutions handled their email marketing, event management, and membership requirements.
This setup, although mostly functional, often led to time-consuming inefficiencies, limitations on their impact, and delays simply updating information.
"Someone would have to send us an email, and then we would change [their directory listing] but it probably wasn't in a timely manner that they would want it to be."
Implementing Locable - A Unified Approach
With the implementation of Locable, Main Street Murfreesboro began to transition into a unified, more effective system.
Locable's platform, enhanced by our unique Marketing 3-4-5™ approach, delivered a wide range of tools under a single solution, saving both time and money:

Alicia quipped that when it came to managing membership and billing prior to Locable, "it was all Excel."
Membership Management tool not only helps stay organized but it handles all recurring billing, includes automated credit card charges through Stripe with no Locable surcharge, and ties directly into all of our marketing tools.
An Emerging Community Hub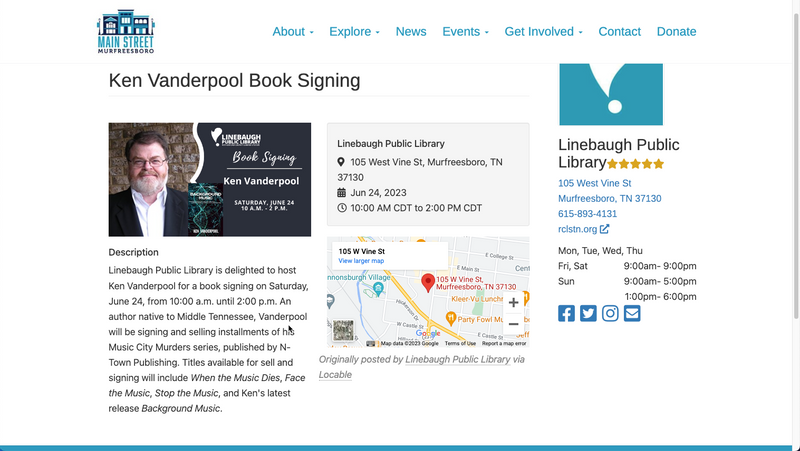 The introduction of Locable ushered in a new era of community collaboration.
Businesses gained control over their information and access to free local marketing tools. Logging into their own Locable accounts enabled them to promote their events and activities, synchronize Google Business Profile information, make updates and leverage Main Street Murfreesboro's audience for their promotions as changes appear automatically.
Through Locable, Main Street Murfreesboro is transforming into a comprehensive hub for local events and activities. By empowering businesses to self-update their events, the organization became a go-to resource for local media companies or publications seeking event information.
"We are now like a one-stop shop for media companies or publications that are local, that are looking for events," Alicia proudly shares.
The Transformation Process
Main Street Murfreesboro worked with Locable to implement our Community-Wide Initiative (CWI).
Our work with Main Street Murfreesboro began with a revamp of their existing website. We aimed to create a more effective website that was easy to manage and optimized for better performance. During this phase, we also set up all the necessary back-office tools and structured the site to seamlessly integrate with Locable's comprehensive suite of features.
Once we imported contacts - both subscribers and companies - we were able to establish the directory, calendar, email system, and membership management.
This set the stage for the final step: working closely with the Main Street Murfreesboro team to engage businesses through our launch process. The goal is always minimal effort from the already-busy Main Street team but maximum engagement.
It's important to stress that implementing Locable's software or even our full website and community launch is a low-stress, highly efficient process. Generally, the transition phase runs from 4-8 weeks from "Go" to "go-live." Our clients typically invest between 5-12 hours of their time to provide the necessary inputs - we break the work down into manageable, 15-minute tasks
The rest is handled by our team at Locable. This approach ensures that our clients can contribute to the process in small increments, at their own pace and convenience.
The Impact: Time Saved and Community Strengthened
Locable has transformed Main Street Murfreesboro's community interactions, enhanced efficiency, and fostered stronger local connections.
You can see their directory listing that includes their activities here on our website.
By consolidating diverse marketing tools into one streamlined solution, Locable has provided an innovative approach to community marketing, promoting greater community engagement and collaboration.